Customer Reference Story
Portwise's validation expertise a vital component in Georgia Ports Authority's decision process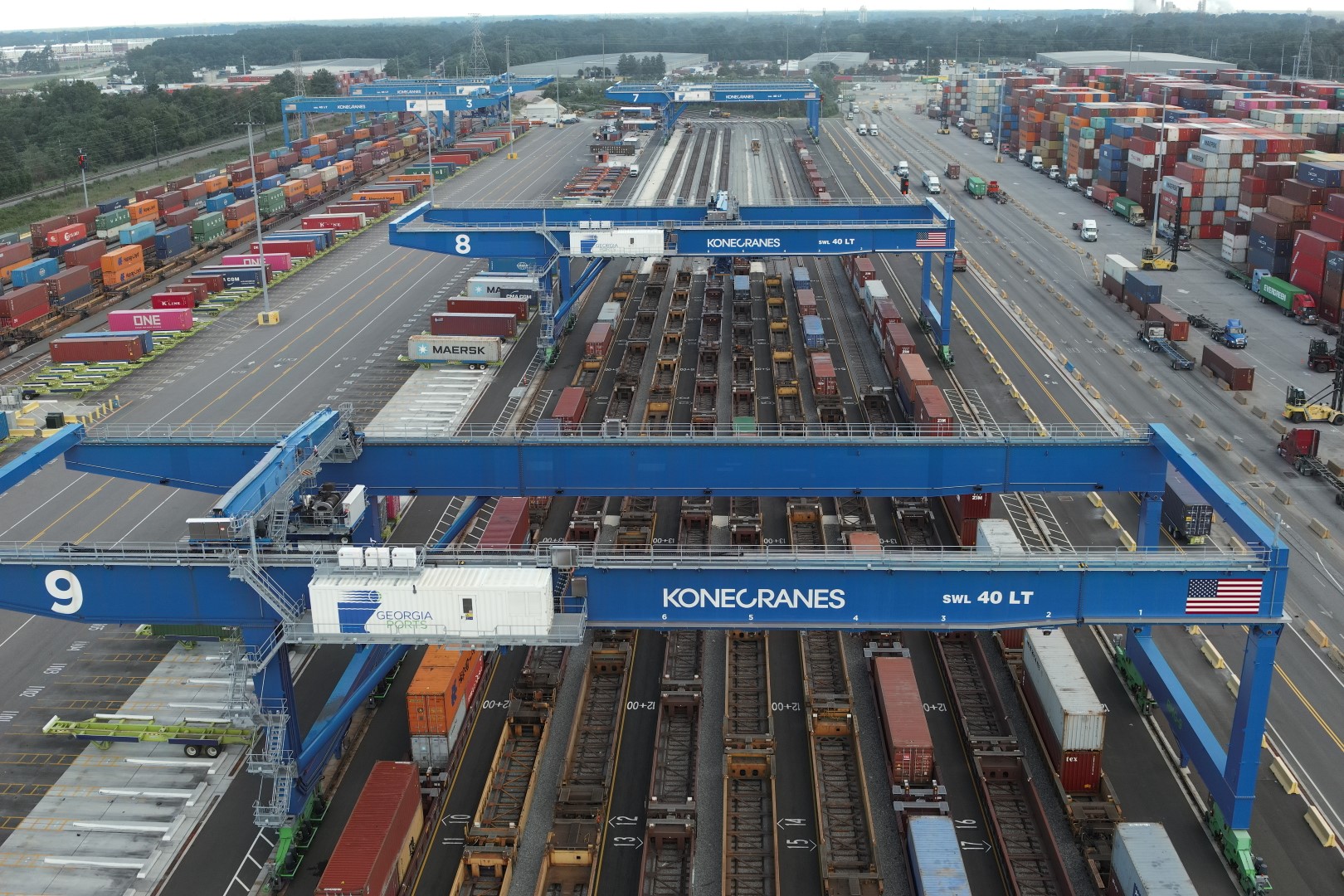 As a result of improvements recommended by Portwise, Georgia Ports Authority effectively doubled its volume over the last decade. Portwise's consultancy and simulation capabilities helped in providing a comprehensive, data-driven improvement approach to optimise the competitive yard capacity advantage for GPA's Port of Savannah. The improvement plans were assessed on feasibility, and provided a balance between operational performance and capacity, contributing to the port's success.
Visionary GPA sets sights on growth with support from Portwise
The Garden City Terminal at the Port of Savannah of Georgia Ports Authority (GPA) is the third busiest container gateway in the United States and recently hit the 5.9 MTEU mark. With 30 container cranes (34 expected by 2028), 202 Rubber-Tyred Gantry Cranes and nearly two miles of uninterrupted berthing space, the Port of Savannah is ideally positioned and equipped for container cargo and fast distribution to consumers and manufacturers.
Portwise began working with GPA in 2012 when the organization realized it needed a definitive quantitative simulation of the Garden City Terminal. At that time, the estimated capacity at GPA was 6.5 million TEUs, but the actual volume being moved was just 2.2 million TEUs. With sights set on growing the Savannah operation, GPA called on the Portwise team for help with determining what could be done to improve, maximise, and achieve the potential capacity. Since then, Portwise has been GPA's trusted partner for all the validation studies of their expansion plans.
"Portwise confirmed that our full capacity was about 6.5 million TEUs, but we had a lot of improvements that needed to be made, along with enhancements to our equipment to achieve that number. Today, our capacity is 6.5, but we've moved almost 6 million TEUs. The simulation has assisted us in establishing operating parameters to maximize our storage capacity. Now, we are moving on to further developments, such as adding the 90-acre Garden City Terminal West and renovating our Ocean Terminal." – Chris Novack, Senior Director of Engineering and Facilities Maintenance
In fiscal year 2012, GPA moved just under 3 million TEUs. This year, they are currently at 5.9 million TEUs, essentially doubling their volume over the last 10 years, which is unique in the world. Novack notes that it's the result of a very aggressive capital improvement programme and planning that utilises Portwise as a vital component to help them make decisions.
"When we plan expansions, their input adds to our decision-making process, including selection of improvements that best utilize our financial resources and can be advanced most effectively. Portwise looks at individual components like the yard, the berths and the gates and helps us determine a specific project which can't be done with a static model on a spreadsheet. This is why a dynamic simulation is such a huge value to us."
Portwise's expertise contributes to multiple GPA expansion projects and unprecedented growth
Initially, Portwise supported GPA by providing a dynamic simulation model to validate if the capacity could be increased from 2.2 MTEU to 3.3 MTEU with the roughly 100 RTGs and 23 STS cranes that they had in 2012. After looking into all components, Portwise provided GPA with multiple scenarios and improvement recommendations. One of these recommendations was the advice to build a rail terminal, which was accepted and executed. It took five years to implement the project, which resulted in the 85-acre Mason Mega Rail Terminal in 2022. The new terminal can handle six 10,000-foot trains simultaneously and enables cargo to move from vessel to rail in an industry-leading 48 hours. It also doubles the Port of Savannah's rail lift capacity to 1 million containers per year and adds 97,000 feet of new rail at Garden City Terminal, for a total of 34 miles of track.
GPA has involved Portwise for every expansion project that they had regarding validation as well as verifying if the planned results have been realised. In addition to the rail project, Portwise has contributed to yard expansions and the CB1 project for additional berth capacity. Thanks to the accuracy of Portwise's design consultancy and simulation, GPA has realised infrastructure improvements that have facilitated unprecedented container volumes through the facility.
Novack notes that Portwise models tend to be on the conservative side and that's actually a good thing during the planning stage. "We're able to put in some very detailed parameters with Portwise simulations and it produces a conservative model."
Portwise's advanced simulations aim to provide reliable recommendations so that clients like GPA can make data-driven decisions in support of their goals.
How we can help
There's a fine line between challenge and opportunity. Let Portwise help you find your balance.